LVM Law Chambers is a reimagination of the local law firm model. Helmed by a Senior Counsel, we are a mid-sized dispute resolution practice in an unique position and we occupy a space in the local legal landscape that is hitherto sparsely populated. Being the new kid on the block, our firm is able to represent our clients against established institutions and organisations, where other firms may be unable to act due to conflict of interests.
Our team is helmed by Lok Vi Ming S.C., a well-known litigator with more than 30 years of high-stakes advocacy experience. A familiar face in the legal fraternity, Vi Ming has argued cases at all levels of the Singapore courts, as well as before arbitration tribunals around the world. He is supported by Joseph Lee, a highly capable litigator and rising star, recognized as one of the most influential lawyers in Singapore under the age of 40. The two are joined by Ge Huangbin, a veteran in the Chinese arbitration scene and a pioneer behind the Singapore International Arbitration Centre's highly successful China initiatives.
General Commercial Litigation
International and Domestic Commercial Arbitration
Building and Construction Disputes
Insolvency and Restructuring
Professional and Medical Negligence Claims
Company Law and Shareholder Disputes
Aviation Litigation
Strata Titles Disputes
Insurance Litigation
Industrial Accidents Claims
Matrimonial and Probate Litigation
Antitrust and Competition Law Litigation

Income Tax Board of Review Appeals

International and Domestic Arbitration

Employment Disputes

Restraint of Trade Litigation

Trademark and Copyright Infringement Actions

Technology, Media and Telecommunications (TMT) Litigation

Complex Trust and Equitable Relief Claims
Land Acquisition Act Appeals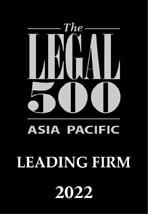 LVM Law Chambers has been ranked as a top ranked firm by both Chambers & Partners and Legal 500. We are grateful for our clients' affirmation of our quality, and it is our privilege to serve our clients on their legal matters.
LVM Law Chambers is SmartLaw certified by the Singapore Law Society. We firmly believe technology enables us to work better and smarter for our clients and the SmartLaw certification is a validation of how we have been effective in doing so.